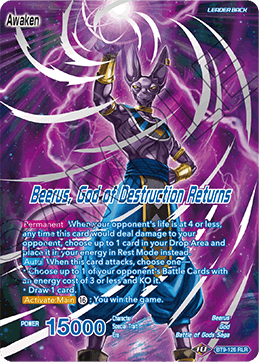 Permanent
When your opponent's life is at 4 or less, any time this card would deal damage to your opponent, choose up to 1 card in your Drop Area and place it in your energy in Rest Mode instead.
Auto
When this card attacks, choose one-
・ Choose up to 1 of your opponent's Battle Cards with an energy cost of 3 or less and KO it.
・ Draw 1 card.
Activate: Main

: You win the game.