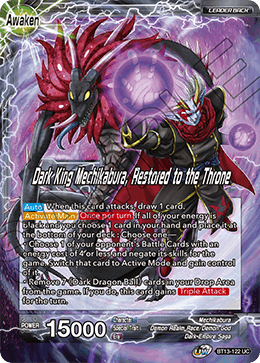 When this card attacks, draw 1 card.


If all of your energy is black and you choose 1 card in your hand and place it at the bottom of your deck : Choose one-
・ Choose 1 of your opponent's Battle Cards with an energy cost of 4 or less and negate its skills for the game. Switch that card to Active Mode and gain control of it.
・ Remove 7 《Dark Dragon Ball》 cards in your Drop Area from the game. If you do, this card gains

for the turn.