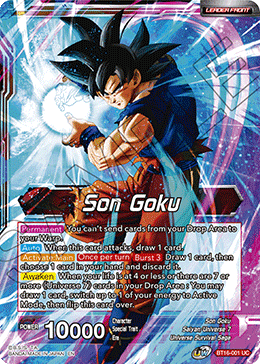 Permanent
You can't send cards from your Drop Area to your Warp.
Auto
When this card attacks, draw 1 card.
Activate: Main
Once per turn
Burst 3
Draw 1 card, then choose 1 card in your hand and discard it.
Awaken
When your life is at 4 or less or there are 7 or more 《Universe 7》 cards in your Drop Area : You may draw 1 card, switch up to 1 of your energy to Active Mode, then flip this card over.