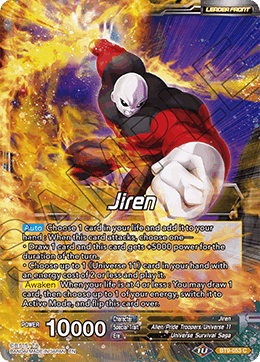 Choose 1 card in your life and add it to your hand : When this card attacks, choose one-
・ Draw 1 card and this card gets +5000 power for the duration of the turn.
・ Choose up to 1 《Universe 11》 card in your hand with an energy cost of 2 or less and play it.

When your life is at 4 or less : You may draw 1 card, then choose up to 1 of your energy, switch it to Active Mode, and flip this card over.